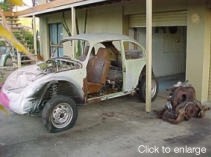 The ugly duckling ready to be transformed into a VW Trike.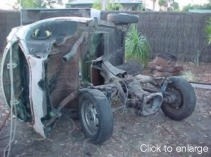 A days work and the sub-section is finally out. Now let's get it into the garage and toss the ol' body down the tip before the wife sees the garden.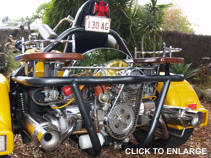 The new engine all dressed up with a bit of bling. (1600 modified). Note the powder coated finish on the frame.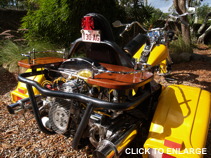 A touch of timber, some twisted steel and a little chrome.
These 100mm (4") HID driving lights will burn the eyeballs out of a roo at 3 klms.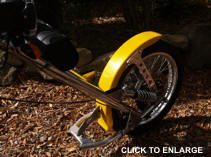 A nice 'leading link' front end. Strong, comfortable, easy to make and perfect for a trike.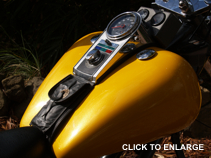 The cockpit showing the nice FatBob tank, Harley Davidson dash and leather tank pouch. (...plus custom-made gauge console)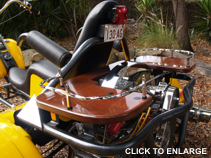 OK bartender...serve 'em up!
A thing of beauty! The Big Yella trike.