A bare Leading Link Front End. These trike forks are the preferred style accepted by many DOT authorities based on strength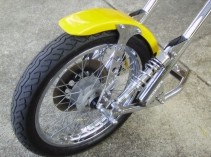 A strong, good looking set of trike forks that can be built at home much easier than girders or springers and can be adjusted for ride comfort.
I designed the triple trees to be made simply, strong and appealing to the eye.