A tired looking VW 1600 engine ready for transformation. First job, strip it and discard the fan belt, S/P leads, fuel hose and other perishable items.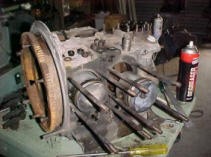 Strip down begins. Note the serious coking on the pistons. Some specialists suggest a light clean, leaving a coating of coke. For me...it's ALL off.
Here is the finished motor.