A tired looking VW 1600 engine ready for transformation. First job, strip it and discard the fan belt, S/P leads, fuel hose and other perishable items.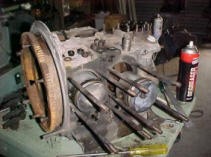 Strip down begins. Note the serious coking on the pistons. Some specialists suggest a light clean, leaving a coating of coke. For me...it's ALL off.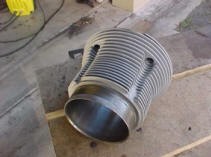 The cylinders are checked for scouring and wear. Consider fitting a new cylinder kit.
The heads are in need of some work. Check for cracked valves, bent valve stems and serious wear around the valve seating area.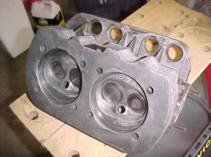 The heads after a port & polish. No broken or cracked cooling fins and the valves have been re-seated. Be careful not to break through the exhaust port walls when de-coking.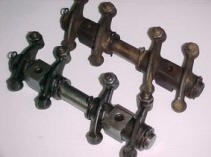 The valve train before and after refurbishing. Fairly straight forward process. Check for excessive wear points.
The fully assembled heads are now fitted with care ensuring that all studs and nuts are tensioned to specifications.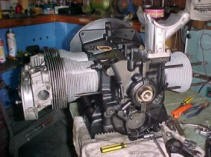 Restoring the power plant. Of extreme importance is setting the main shaft end-play. Usually .004" +/- .001
Finally all done and dressed up ready to go. (The pink lampshade got tossed)