Imagine riding a VW trike like this, anytime, anywhere. It looks great! It sounds great and it handles great.


Phil Parry is my name and I'm no mechanic. I'm a Technical Illustrator. I don't have a large fabrication shop, only a modest home garage
, b
ut that didn't stop me from designing and building every square inch of this beauty I call Big Yella from the ground up.

The Big Yella Story


After replacing the engine in my daughters '65 VW Beetle, I pondered what to do with the old
VW 1200
*
engine now redundant and dripping oil all over my garage floor. "A VW trike I'll build" thought I. And so the journey began.

All design, fabrication, engine construction, wiring, painting, panels and fenders, timberwork and wrought iron work, in fact everything you see, I did in that modest garage.

So, if you can use a drill, an angle grinder, a welder, a wrench and a ruler, and have the determination, you're on the way. Simply by using the sub-section from a donor Volkswagon Beetle. That's how I built Big Yella.
A Serious Guide to Building a VW Trike


So if you want a rewarding project you can do yourself at home, this one's for you. And to help you through the process 'A Serious Guide to Building A VW Trike' will show you the steps (in detail) on how to transform a Volkswagon Beetle into a stunning VW trike like Big Yella.


And when finished, your home built VW trike will have cost half that of a shop built VW trike or less.



Take a look at the Gallery. U
se this link to

'

A Serious Guide to Building a VW Trike' to get your copy delivered today
and start your own Big Yella journey.
"The three great essentials to achieving anything worthwhile are, first, hard work; second, stick-to-itiveness; and the third, common sense" (Thomas Alva Edison)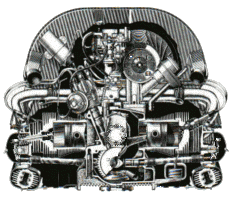 *The irony is...my original 1200cc engine was sold to a sheep shearer in the great Aussie outback (Thargominda, Qld) and was never used in my VW trike.