How many times have you thought of riding a VW trike? A unique machine that grabs attention and is a blast to ride. I had that thought.
So, after a bit of time, a bit of determination and some grease on my hands, I finished it. Big Yella!

It looks great! It sounds great! It handles great! And it cost a lot less than a shop trike.

Phil Parry is my name and I'm a Technical Illustrator
.


Having replaced the engine in my daughters '65 VW Beetle, I pondered what to do with the old
VW 1200
*
engine now sitting on the garage floor. "A VW trike I'll build" thought I. So I did.

After some initial design work and using basic tools at home, I started Big Yella.

The project involved welding, fibre-glassing, painting, an engine rebuild, and some wood working, but I succeeded in transforming an old VW Beetle (ready for the dump) into this stunning VW trike.

Anyhow, browse the site and enjoy the photo's. Who knows, maybe one day you'll fabricate your own Big Yella VW trike.
If you would like to know how to build a Big Yella trike, use this link
'
A Serious Guide to Building a VW Trike'
.
The three great essentials to achieving anything worthwhile are, first, hard work; second, stick-to-itiveness; third, common sense. (Thomas Alva Edison)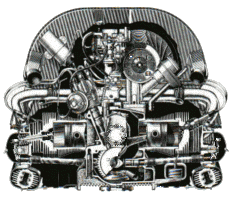 *The irony is...my original 1200cc engine was sold to a sheep shearer in the great Aussie outback (Thargominda, Qld) and was never used in my VW trike.