The sub-section has been removed and sand blasted to get rid of rust, grease, old paint, etc.
The dismantled VW sub-section is now ready for the trikes frame tubes to be bent to shape and fitted.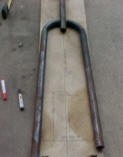 Although the method is basic, the result is accurate as long as care is taken during set up.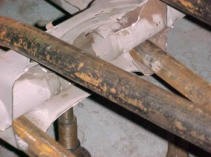 Fitting the trike frame tubes into the VW sub-section ready for welding.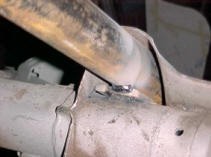 Levelling the tubes using steel packing. The left and right tubes MUST be correctly aligned for the steering head.
A blanking plate is fitted to the trikes sub-section.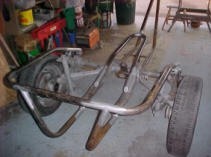 Slowly the frame takes shape. If your trike frame is to be scrutineered by a compliance engineer, only tack welds should be used at this stage.
The key to final accuracy is to check, re-check and then check again.
Checking the steering head for perfect alignment prior to tack welding in place by using accurate, but simple methods.